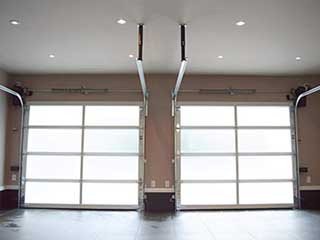 All too often, people don't notice their springs about to break until there's a sudden loud banging sound and their garage door stops working. While a worn-down garage door spring can break at any time, it will usually do so while you're trying to use the door. You know, the worst possible time. Once you've got a broken spring, your garage door might stop moving at all, or it may list to one side or move very slowly. Even if the door still technically works, using it may cause other, more expensive parts to break without the springs to help bear the door's weight. If a spring breaks on you, the only choice is to get a new one installed as quickly as possible. Luckily, Garage Door Repair Hugo provides same day broken spring replacement all over town, on weekends and weekdays alike.
Spring Repair Is For Experts Only!
Amateur garage door spring replacement is one of the leading causes of domestic accidents that lead to serious injuries. Overhead garage doors are heavy, and motors would quickly wear themselves out if they had to open and close all that weight without help. This means that garage door springs are built to store a lot of kinetic energy, and they need that counterweight to release it safely. If you don't know what you're doing, you can send a garage door spring or fragment shooting out at very high speeds while tampering with it. Broken springs or components connected to them have unpredictable trajectories, and enough snap in them to break windows, damage garage walls, or break human bones. This is one home maintenance project you should only undertake if you're a trained professional.
What To Do If A Spring Breaks
If you're not trained in how to replace garage door springs, call someone who is. That's really all there is for it! If an urgent situation requires you to finish opening or closing your garage door right this second, then it might be worth risking it. Even in that case, you shouldn't touch it again after that until you can get a technician over to install some new garage door springs. For the fastest broken spring replacement, you can get for a reasonable price in Hugo, you can dial the number right here on this page!
Affordable Spring Replacement With Garage Door Repair Hugo
Our team is always ready to go out on a service appointment, even during holidays and weekends. Any garage door spring near the Hugo area can get new springs installed within hours of your phone call. We work with torsion and extension spring systems for every size of residential garage doors. Give us a call today, and let us get your new springs installed nice and tight!