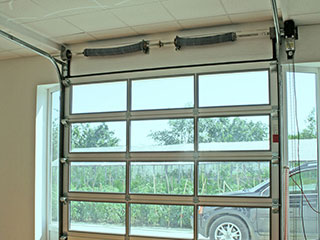 Your garage door is composed of hundreds of parts. Some are moving, some don't, and when some are moving when they shouldn't – it's time to have the door properly checked. Garage Door Repair Hugo is at your service when it comes to professional checks, minor repairs, and preventative maintenance. Here are some of our service features:
Sensor Alignment & Testing
The opener reverse mechanism is one of the most important security features in automatic garage doors. The sensors must be in good condition, properly aligned, cleaned, and of course – make the opener reverse the door in any case something is obstructing their beam.
Spring Adjustment
Be it automatic or manual, your door mainly relies on the strength of the springs. When one of the springs is too tensed, the door might hang slightly on one side. This can be fixed with adjustment, yet like any other action needed with springs – it calls for a professional. Handling springs on your own is highly not recommended.
Lubrication Maintenance & Weather Strips
The moving parts need to be properly maintained and depends on what type (drive) your opener is – some of its parts might need it too. Let one of our experts take a good look at your door and make sure the rollers, chains, cables, and tracks are all in check! In addition, maintenance is a great excuse to replace the old weatherstrips and insulate your garage.
Contact Our Company!
Let our team make your garage door look, sound and work like new! Give us a call, send us a message, or better yet – schedule your appointment easy online!Let us know how we can help you today.
Looking for more? We also offer:
Garage Door Safety Inspections
Opener Sensor Repair & Replacement
Torsion Spring Adjustment
Overhead Door Installation