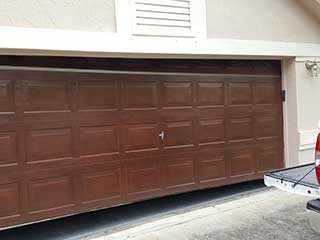 Small issues that make noise or rattle the panels a little don't always require immediate attention. It's the big ones, the major malfunctions like broken springs or an opener that isn't working that require the speediest solutions. And it's with exactly such issues that Garage Door Repair Hugo can help you with when trouble arises. Different types of problems can make it very difficult and sometimes even dangerous to use the garage door. Repairs from nearby technicians, when provided quickly, can make a huge difference between the whole day plan being scrapped to a small hiccup.
Same Day Broken Spring Replacement
While there are different potential faults and issues that garage doors can experience, a broken spring is the most common one by a long stretch. It makes sense, really. The springs on your garage door go through the most wear and tear and see the most action as they always support the weight of the door when you lift it each day. So it's not surprising that they see the most accidents and breakage, statistically speaking. When dealing with a broken spring, replacement needs to be handled by professionals. Real risks are involved when replacing broken garage door springs. So make sure you save yourself the brush with dangers and leave it to the Hugo garage door repairman nearest to your area.
Opener Can't Open The Door – Troubleshooting Services
Some problems don't present an immediate and obvious cause the way broken springs do. With a garage door opener that isn't working, you could be looking at a few different roots to the problem. Misaligned sensors and travel limit switch adjusted incorrectly are the smaller of the potential culprits. Then you've got worn or broken motor gears, trolley or chain problems, and even logic board malfunctions or bad wiring. The garage door opener troubleshooting we provide to Hugo area residents ensures a quick solution on the spot. Finding and fixing openers is one of our technicians' specialty, and is part of the general emergency garage door repair services we provide.
Cable Off The Drum and Garage Doors Off Track
Our local repairmen are no strangers to problems with the hardware parts and the garage door getting stuck. Like we said, these systems experience a variety of issues over their long lifespans, and it's important for a good garage door technician to know how to handle whatever the door throws at him. We come prepared to offer Hugo garage door repair services to all nearby areas, carrying replacement parts in our trucks and cars for same-day solution purposes. When garage door parts break and need replacement, we usually have a ready part available right away.
Your Local Hugo Garage Door Repair Pros
Remember, help is never far when you need help with the garage door protecting your car. Whether you've got a mechanical problem or some issue with electric opener components, our local technicians stand ready to provide assistance on any given day. Call Garage Door Repair Hugo for the fastest fixes from the closest local experts!