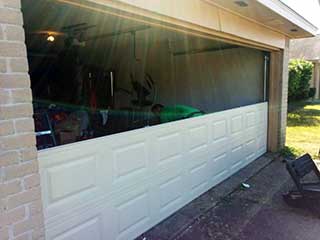 An automatic mechanical system like your garage door can experience all sorts of issues over time. Broken springs, damaged panels and misaligned tracks are just a few of the many different problems that you may find yourself facing all of a sudden. Whatever the case may be, you can always count on our experts for an effective and reliable solution. Our technicians all have years of experience performing anything from opener motor repair to broken spring replacement, so there's virtually no issue we can't help you with.
Complete Panel Replacement
While we do perform a variety of minor to major repairs to wood and steel door sections, sometimes the damage may prove too severe, in which case replacing the affected sections will be necessary. Count on us to source new panels of a matching color and design and to install then in place of the ruined ones in a timely fashion.
The Importance Of The Rollers
Your door doesn't move along its track without help. The rollers are in charge of facilitating the movement of the panels, which is why – if they're made of steel – lubricating them is so important. However, sometimes these units can wear out or even break altogether, in which case they too will need to be replaced. Our technicians will not only do that, but we'll also make sure the tracks are in good condition and aren't misaligned or bent.
Various Door Troubles
Some situations may seem complicated, like when a door gets off track or starts reversing unexpectedly even though the alignment of the opener safety sensors is correct. In such instances, our team will troubleshoot the problem until we've discovered its root cause. Then we'll apply the appropriate solution and repair the part that's causing the malfunction or replace it entirely.
Give Us A Call Today
Whatever you need, our team at Garage Door Repair Hugo can do it, from replacing frayed cables to reprograming old or new remotes. Contact us as soon as you discover a problem and we'll get rid of it for you as quickly as possible.
You can also count on us for:
Liftmaster Chain Drive Lubrication
Screw Drive Opener Replacement
Galvanized Torsion Spring Installation
Emergency Garage Door Services