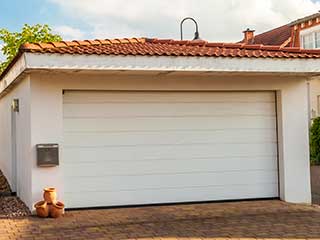 Winter is often a prime time for burglaries. With the sun setting early, there's plenty of opportunities for thieves to try and break into your home under cover of darkness. Summer isn't any safer, as that's the time when most families choose to go on vacation, leaving their homes more vulnerable to thieves. You need complete peace of mind, all year round, so here are our a few helpful tips for making sure your garage stays secure.
Install A Modern Door
Older doors, especially single-panel "up and over" models, are vulnerable to burglaries. They're often fitted with just a single lock, which can be easily defeated by experienced thieves. We thoroughly recommend investing in a modern garage door with all the new technology that's available today. It can really boost your home security and make it harder for thieves to break in.
Upgrade Your Opener
The opener doesn't just lift the door up and down, it also plays a crucial role in your home security. Modern models incorporate security features such as "rolling codes", which will make your remote control code change after every use. This has been introduced because criminals found a way to replicate opener remote control codes, and then use them to open the door. Most modern garage door opener models can also feature motion detection lights and WiFi connectivity, and can also connect to security alarms, and smart alerts.
Install A Garage Door Defender
If you need a little extra protection for your garage, consider installing a defender. These heavy-duty lock systems are bolted straight into the driveway and they provide a rock-solid anchor point for keeping your door shut. They're very economical and difficult for thieves to defeat, but they can be awkward to use if your door is in constant use. Still, if you're planning to go on holiday, the extra peace of mind this type of lock brings may be well worth it.
Add Some More Locks
If you're not planning on upgrading your door just yet, you can still add more security by simply installing more locks. This is a great idea for old-style doors with insufficient or outdated locks. Weatherproof bolts and heavy-duty lock systems can provide great security at a reasonable price, although you should consult our technicians to ensure they're appropriate for your garage door.